www.st-georges.enfield.sch.uk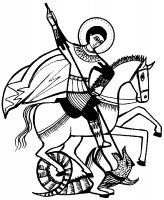 The school, a Roman Catholic primary school situated in Enfield in Greater London is larger than most  schools with 660 pupils on roll. Relatively few children are eligible for free school meals and only 7% of children have English as an additional language.  St. George's is in the highest 40% of schools nationally for pupils with SEN statements or on School Action Plus.  Children enter the schools with  skills that are broadly at the level expected for their age.  At the end of Year 6 children have reached a level that puts them in the top 20% of schools nationally.
The Award submission video
Notes on video
The use of handheld technology to record and report children's leaning allowing the practitioner to capture the child's voice together with a photograph of the child's learning.
Creative use of the Interactive Whiteboard by the pupils to support mathematical investigation and develop mathematical understanding.
The use of the VLE to engage and involve families in their children's learning.
The use of the VLE to share resources beyond the school and to promote collaboration.
The creation of podcasts by the children to provide peer support for homework activities.
The creation of music for and real audience and to support self and peer evaluation.
The use of video to evaluate and then improve performance in role play.
The progression in the programming skills of the children through the school.